Superior Patient Care Requires Clinical Expertise, Compassion & Understanding.
We understand that every patient's situation is unique. That's why Cottrill's Pharmacy offers customized solutions based on your individual treatment plan. We are committed to maintaining consistent communication with all members of your care team.
We will supply you with your choice of products and all needed ancillaries for infusion patients. We offer expert assistance from our reimbursement specialists who carefully review any patient cost sharing obligations making sure you receive the benefits you are entitled to.

You will receive personal "concierge" delivery of care products, with 24-hour delivery service when it is most convenient for you. You will receive the support you deserve, with home infusion training and education for you and your family members. You can rest assured, knowing you'll have 24/7 service with emergency support in conjunction with your health care providers.
Patient Satisfaction Rating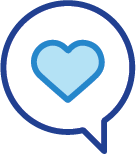 Cottrill's Pharmacy Patient Testimonial
"Your prompt response to requests as well as seeking out answers to our questions has been greatly appreciated. My illness has complicated our lives and it is so very reassuring that there is someone who is ready to assist and is dependable."